What does it mean to "connect"? In today's social media-driven world, making a "connection" has taken on a whole new meaning. Businesses are sometimes more likely to measure connection based how many followers they have or how many likes they got on their latest post. People naturally crave connection, which is what attracts people to social media in the first place. It's far easier to connect through a swipe or a click than through a handshake or a conversation.
"Connect" is the theme of this year's NACS Show, and that reminds us what it truly means to make connections with others. It's not about the number of re-tweets or shares you get, it's about the relationships you form. Here at Ready Training Online, we've been attending the NACS Show since 2008. As soon as we get home from one year's show, we start planning for the next. This year is no different. During our history attending the NACS Show, we've developed hundreds of relationships, partnerships, and alliances. In fact, that's where the first conversations about the NACS e-Learning program took shape.
Whether you're an exhibitor or a retailer, there will be no shortage of connections to be made this year. Like any big tradeshow, the sheer number of people walking the expo hall can be overwhelming. But think of it this way: every face you see is an opportunity to make a connection – an actual connection. When we're at the show as an exhibitor, we're not thinking about sales and quotas, we're thinking about connections. We're thinking about cultivating existing relationships with the hundreds of current clients we'll see there, and we're thinking about creating new relationships with hundreds more.
Retailers also have great opportunities at the NACS Show. Not only are there thousands of vendors with the latest products and services to connect with, the show attracts 23,500 industry stakeholders from around the world. These are people to run ideas past, learn from, and grow with.
We hope to truly connect with you at the show in a few weeks. Please stop by our booth, #3367. See you in Chicago!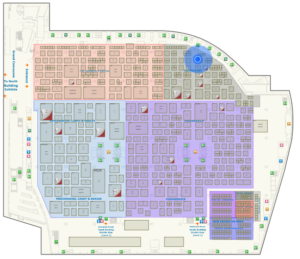 Quick Links
Schedule of Events
MyShow Planner
Educational Sessions
Exhibitor Listing